Over the last few weeks, I have put my nose to the grindstone to finish a manuscript that I've been working on for a while. Once I fill in some gaps, I'm hoping to find a publisher. At the moment, this is still a long-term goal, but it's something to look forward to. Since I'm trying to expand my thought process, I've made it a point to re-read several of my favorite books, focusing on what makes me love them. I'm hoping through this process I will develop a book (manuscript) that comes from a true place in my heart. I will weave into my writing ideas that express who I am as a writer, not just form a copy of someone else's work.
As I'm in the process of developing my writing, I re-read a young adult book, A Snicker of Magic, by Natalie Lloyd. As I read this book I heard my own voice as the narrator. One reason for this could be that the last time I read this book, it was out loud to a class of fifth-graders.
This book inspires me in my creative thinking, even if the main character's voice comes from a young girl. One of the things I hope to retain from this word-collecting traveler is the seed of inspiration for several sketches in my head. Maybe I'll finally figure out how to put these ideas on paper. The main character, Flea, writes down wiggling words onto her shoe. This reminds me that sometimes I need to be creative and follow extraordinary ways of hanging on to any incoming ideas.
Another book that I'm actually getting to read in Spanish (preparation for a trip I'm taking this summer) is The Book Thief, by Markus Zusak. Not only is this story a book about books, but it explores the ideas of family, friendships, laughter, tears, pain, and hope. In reading this for a second time I am inspired to write a book that has the essence of real people.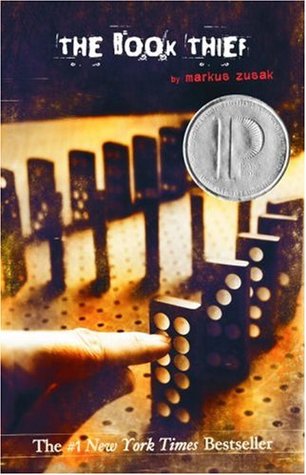 One day I hope to write a historical fiction book, which would take a grand amount of work on my part. I am finding myself getting caught up in the honesty of these characters as they learn about goodness, integrity, courage, and love. If you are not a fan of reading, there is still a movie based on this book, which is actually a really good representation of the story.
A third middle-school-aged book that I will read soon is The Westing Game, by Ellen Raskin. I have read this book multiple times, and though the mystery is simple to figure out once you've uncovered it, I still enjoy the character development.
Not only does the plot weave clues throughout the chapters, but each of the characters have a unique story that is somehow tied to the final answer, which is ultimately answered in the last several chapters. Though this was written for kids, I love the way that the story has some twists and mixes humor into serious conversations. I hope one day to master this in my writing.
Shoe Photo by Andrew Itaga on Unsplash